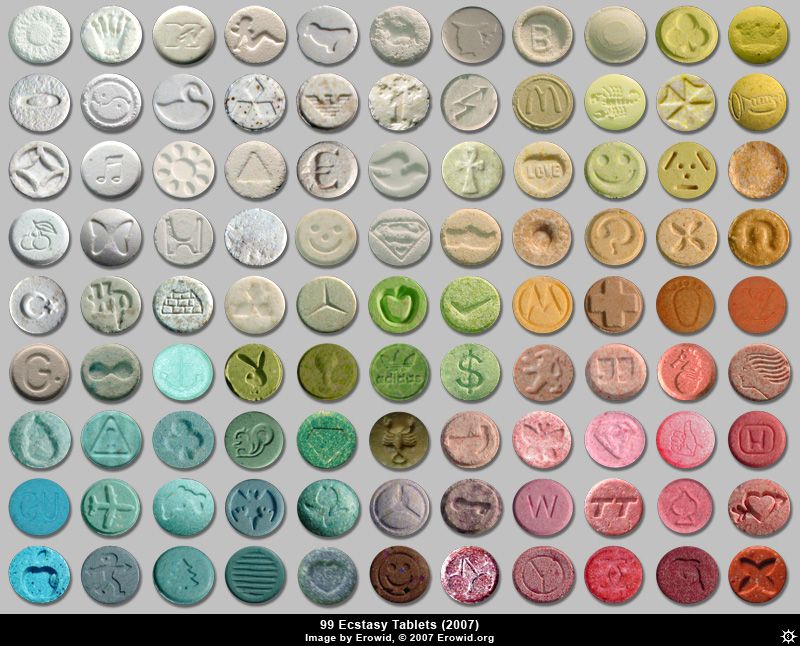 MDMA or 3,4-Methylenedioxymethamphetamine is an entheogenic, hallucinogenic stimulant that floods the brain with large amounts of serotonin and dopamine to produce intense and prolonged feelings of euphoria, hypersensitivity to lights, touch, and sound, and empathy in users. Common colloquial terms include ecstasy, XTC, X, molly, and mandy while the manifested effects are titled "rolling" in popular culture. Found both in powder, crystalline, and pill form, MDMA is sweeping the globe as a newly prized party and therapeutic substance. Chemically it is similar to amphetamine and within the culture of users, potency and purity is valued creating the high demand and high cost of the drug.
How this substance is relevant to the case of globalization is unique in the fact that only in the past 3 decades has MDMA experienced massive trafficking and distribution unlike established illicit items such as cocaine, heroin, and marijuana.
In this case study there will be three distinct focuses on the globalized case of MDMA. First, the global market has adapted to the global demand for the substance resulting in the transnational sale from the deep regions of South-East Asia, to the Netherlands, and ultimately arriving in North America/Europe for consumption. Amidst these international trade channels it is also clear that a uniform culture has surrounded drug in the form of users' behaviorisms and consumption patterns.
The second point of analysis ties in a historical account of the development and current status of MDMA globally. From the drug policy surrounding it to its growth into a multi-billion dollar enterprise it is clear and will be further elaborated on, that it is now a global commodity. How major players such as Israeli traffickers, Russian crime organizations, and Dutch clandestine chemists have bonded together to control the major revenues in the market is also noteworthy based on the post-modern theory of drugs. Also, the interesting case and birth of online drug retailers is provocative in the idea that the well established methods of drug trafficking are being neglected for more personal means due to the nature of consumption.
Finally, the aforementioned culture of ecstasy will come into play when rave culture, party culture, and a recently growing scare of pseudo-MDMA intersect and produce the current climate in the scene. Whether used at a concert, at a private residence, driving around, or as a therapeutic means to an end it is clear that these themes overlap and can illuminate important information on the substance.
My methods in this case study consisted mainly of literature research. I also incorporate informal observations from the past semester that I collected at 3 raves as well as on Davidson's campus. Informal observation included brief discussions with strangers either offering MDMA, wanting to buy, or those affected by MDMA.
The literature used is presented in links at the conclusion of each section and those articles/books used in multiple areas can be found directly below.
Readings:
Global Habit: The Drug Problem in a Borderless World
Going for the Global: The Case of Ecstasy
The Ecstasy Industry in the Netherlands in a Global Perspective
Searching the Internet for Drug-Related Web Sites: Analysis of Online Available Information on Ecstasy (MDMA)
Video: