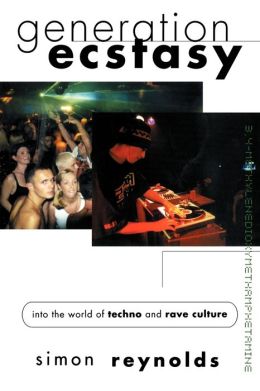 With the rise of the illegal usage of MDMA there has also been a parallel development of culture surrounding the use. The three areas this post is most concerned with are the relations between MDMA and rave culture, use outside of a rave setting, and the recent scare of pseudo-ecstasy that is sweeping the world.
Beginning with rave culture it is clear that the effects produced by MDMA use compliment the audio, physical, and visual experience characteristic of electronic music concerts. First time use was reported in high percentages at either a rave or club either prompted by the sale at the venue or provided by friends (Boeri et al. 2004). For this area I would like to use my own personal experiences at raves to compliment the literature I've reviewed. While attending 3 raves this spring semester I've encountered nearly constant questioning as to whether I would like to purchase or could provide MDMA to patrons who I had not previously known before. These individuals ranged in age from what I perceived as 16 (the minimum allowed for entry) up to approximately 40 years of age. All racial categories were present in this data and it is of note that key statements presented by those attempting to sell included "this is from…" filling in any number of countries or cities but the most prevalent being the Amsterdam or Germany. This prompted me to confirm through direct knowledge that while the drug may not be from those locations, it is clear that quality is associated with those places as well as asserting a reputation of legitimacy for the dealer in the eyes of the consumer.
Based on literature regarding foreign dance floors and concerts, this remains the same. It is common knowledge to those who haven't researched this topic that foreign product is the best (Boeri et al. 2004). I'd like to address this universality with another common theme across the globe that is a direct result of MDMA use. PLUR or "peace, love, unity, and respect" is a common motto embodied by rave attendees and stems from the feelings of empathy induced by the drug. Instead of separate movements of a similar nature springing up in response to the biological effects of MDMA, this mantra has be exported and imported along with the substance.
While rave use is seen as a majority of MDMA use, there are many forms external to this culture. Users reported that after the first use at a show they were more prone to consume ecstasy at private residences, parties, bars, or public places while driving in a vehicle or walking in a park (Boeri et al. 2004). This expansion has several implications including the movement of usage from the white, middle class to that of all racial categories and economic statuses. This is becoming true in most countries with growing use where the drug is diffusing out of the pockets where dealers reside and into urban and rural areas. Polydrug use is complimenting this with the experimentation of youth coupling substances they would normally indulge in such as methamphetamine, cocain, GHB (a derivative of LSD), and alcohol (Boeri et al. 2004). Globalization is inherently changing the nature of usage as it spreads to different environments such as the college setting where alcohol use will not be forsaken at the expense of eating or snorting MDMA. This is true on Davidson's campus as well. While it isn't necessarily seen in large numbers, it is as common as cocaine or amphetamine use where individuals have reportedly come across dealers at home or at concerts and want to "treat" themselves to a special weekend night that is different from the common binge drinking of the court.
The last point to be discussed regards the increase in encountering fake MDMA whether it is a placebo or harmful chemicals that produce similar effects. 60 percent of seized MDMA contains impurities and because it comes from an illicit market there is no system of safety checks or controls (Newton et al. 2002). Thus, a culture of skepticism and reputation has been created where, very much like Silk Road's customer reviews, there is knowledge passed around the community of users to ensure the consumption of pure and potent MDMA. Websites like harmreduction.net exist as entities set up by users to ensure that consumers know what MDMA looks like, can purchase testing kits, and gain general knowledge on safe use. This is globalization at its finest as it is available around the world and specifically for MDMA users.
Readings:
Rolling Beyond Raves: Ecstasy Use Outside the Rave Setting